Aging Advisory Services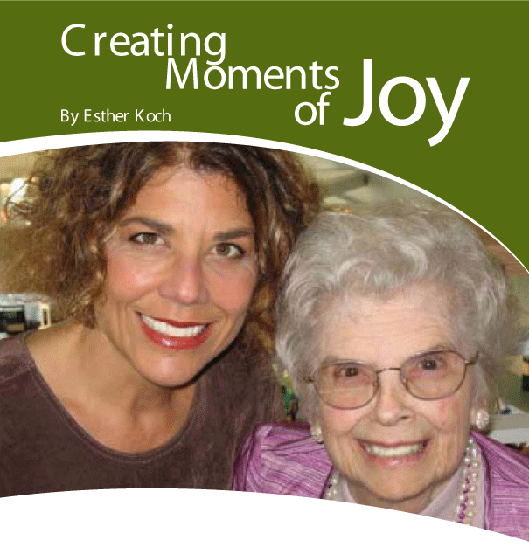 Daily Word (May 2009)
Esther was fulfilled in her career as a gerontologist and
elder care advisor to many, but it was in her role as the tender,
loving caregiver for her mother that she experienced her
greatest joy and created lasting memories.
My mother was a gracious, elegant lady, blessed by the grace of God and Unity principles that were the foundation of her belief that "God is working for my good."
Mother called herself a survivor, and survive she did—through numerous health challenges, finally succumbing to leukemia just days before her eighty-eighth birthday.
My father had passed away twenty years earlier, so during the last ten years of her life, I was Mother's primary caregiver. I performed that role as an only child but with my professional expertise as a gerontologist and elder care advisor.
Caring for aging parents and being their advocate may be one of the most important and challenging roles that any of us may assume. Unfortunately, we can get so lost in all that we need to do for our parents that we neglect to truly be with them. We then miss out on what I call "moments of joy," some of the most beautiful and lasting times we will ever share with them.
Opening the Door to Gratitude
To get to moments of joy, we may need to get to forgiveness first. Mother and I both got to a place of forgiveness and never looked back. Although it was left unsaid, I know we both wished we had gotten there sooner.
Forgiveness opens the door to gratitude, and gratitude leads to joy. Yet too often, sentiments of gratitude to a parent are left unexpressed or not expressed enough.
Some of my most cherished memories with my mother include reading Mother's Day cards to her—throughout the year. The last line of my favorite card was "My life is blessed because you are my mother." As I spoke these words to her, my heart overflowed with love, and I could see that her heart was uplifted.
Moments of joy are best expressed in the simplest of things. For instance, even when Mother was unable to walk, move in bed, or feed herself, she was elegantly dressed in a Hawaiian gown (Mother had been a professional hula dancer). Wearing makeup and having a flower in her hair, Mother had a twinkle in her eye. Dressing her this way brightened her day and the day of all who interacted with her.
Although cognitive ability might decline with age, one's capacity to feel does not. Even severe dementia is interspersed with moments of clarity. Knowing this, I never felt I could say "I love you" too often to Mother. My favorite response from her was "I know you do." She always said it with full clarity and emotion.

Daily Word, a Family Tradition
One of the foundations of Unity that provided daily moments of joy was
Daily Word
. My grandmother read
Daily Word
to my mother when she was a child, and my mother read it to me. We all requested the prayers of Silent Unity during troubled times and gave
Daily Word
subscriptions to many of our friends.
Daily Word
anchored our lives. Today, I have a link to it on my home page.
During Mother's later years, I read
Daily Word
to her. Holding her hand and reading
Daily Word
to her was the highlight of my day. She never lost the ability to process and appreciate the daily message, frequently saying, "That was a good one."
Many days we thought the message was written just for us. When the message was for caregivers, I distributed copies to the staff aides. In her final hours, I kept rereading
Daily Word
passages and repeating the "Prayer for Protection." For me, it was the most loving, peaceful way to let her go.
Any Day Can Be Mother's Day
Creating moments of joy is a way to celebrate mothers on any day. If you need to start anew with your mother, don't miss the opportunity that Mother's Day brings.
Whether you are celebrating your mother in life or honoring her memory, moments of joy create blessed memories that last forever. And right in the midst of caring for a loved one, moments of joy are the best prescription for caregiver stress that I know.
And it is with deep appreciation and understanding that I offer the following blessing to the caregivers of the world:
Blessing for Caregivers

May your life be filled with no regrets.
May you see the extraordinary in the ordinary; and
May someone be there to brighten your world as you age.

Esther Koch is a gerontologist, elder care advisor, and author. Her firm, Encore Management at www.ENCOREmgmt.com, provides educational and advisory services that assist individuals with issues associated with caring for an aging parent and their own aging. A sought-after speaker, her media interviews and articles have appeared on television, radio, and in print. Esther is a 25-year member of Unity Palo Alto Community Church, in Palo Alto, California.
Creating Moments of Joy as You Care for an Aging Parent:

• Focus on being with your parent, not just caring for your parent.

• Find joy in the moment. Be present to that moment.

• Know that joy is in the simplest of things.

• Seek to make the ordinary extraordinary.

• Forgive—a little forgiveness eliminates years of regret.

• Create in your parent's life the quality of life you want as you age.

Always Remember That ...

• Denying your parent's aging will only lose you precious time. Start early.

• Cognitive ability may decline with age, but the capacity to feel does not.


Reprinted with permission of Unity, publisher of Daily Word

ENCORE MANAGEMENT
(707) 937-9025