Aging Advisory Services
"Turning 65?
Get Beyond the Denial of Aging.
Think, Plan, and Act - Those are the Key to Successful Aging."

Esther Koch, Founder of Encore Management
Encore Management is also uniquely qualified to guide you through your own aging. If you have been caring for an aging parent you will have previewed what might lie ahead for you. Successful aging isn't something that just happens to you. You need to think about it, plan for it, and act upon it. Do you understand your Medicare options? Do you understand your Social Security options? Are your legal documents in place and current? Are you taking care of your own health and well being? What will retirement look like for you? The more you plan ahead, the more options you will have.
"Caring for an Aging Parent and Becoming their Advocate
May Be One of the Most Important and Challenging Roles
That You Will Assume During your Lifetime."

Esther Koch, Founder of Encore Management
Encore Management is uniquely qualified to guide you through the broad range of issues that you will be presented over the years as your role as caregiver and decision maker for your parent grows. As a gerontologist, Esther Koch founded Encore Management to focus primarily on the needs of adult children who care for an aging parent. In addition, she has personally faced the many challenges of eldercare as primary caregiver to her mother the last ten years.
Esther's Contribution to the President's
United We Serve Initiative


WHAT YOU NEED TO KNOW BEFORE YOU'RE 65
A Primer on Your Initial Medicare Elections

A Three Part Podcast Series
Co-Sponsored By Woodruff Sawyer
To Listen Click Here



With the passage of the Affordable Care Act, this is definitely the year to have a Prescription Drug Plan Review (although this is something that should be done annually).

Plans change annually based on performance and competition, and it is likely that an individualís drugs change annually, too.




It is important to note that the price you pay for drugs is determined by the Plan in which you are enrolled.

In addition, each Plan categorizes and prices drugs differently.

Your drugs costs can vary by up to thousands of dollars depending upon the Plan you are in.

There is no reason to leave money on the table.
I Have Yet to Have a Client for Whom the Best Plan for Them One Year
Continued to be the Best Plan for Them the Next Year.

Esther Koch, Founder of Encore Management


2009 Stanford Business School Alumni Reunion
SUCCESSFUL AGING
How age presents itself in your life is really up to you. Successful aging isn't predetermined by your genes or just something that happens to you. Gerontologist and aging expert Esther Koch, MBA '79, discusses the success factors for aging and how to apply them to your life.


This Session Recorded and Available for Viewing
Click Here
Esther Spoke at
The Commonwealth Club
The Nation's Oldest and Largest Public Affairs Forum

What Will Retirement Look Like for You?

Not only does retirement look different from prior generations, so too do the retirement years. Emotional well-being, social engagements, health status, and financial resources will all impact your quality of life when you are retired, and all of these are lifestyle choices. You have more control over your retirement years than you think but you need to plan ahead as the responsibility is primarily yours, not the Government's. Start your thinking, planning, and acting by asking questions of a panel of aging and retirement experts.

This Session Aired on NPR Station KLIV 91.7
To View Click Here


Honoring Our FathersLearn How to Express Gratitude to an Aging Father
To Read Esther's Advice
Click Here
Read Esther's Article from
Unity Magazine


Another Way to Live Heaven on Earth:
Use Mother's Day and Father's Day to Create Moments of Joy


(Remember: Any Day Can Be Mother's Day or Father's Day)

To Read Article
Click Here
Listen to Esther's Interview on Unity FM

Honoring Our Mothers
The Leading Edge with Mindy Audlin

To Listen Go To Unity.FM
Esther Spoke at
37th Annual NorCal Conference
ELDER CARE
How It Impacts Your Client, Your Business, and You
The cost and face of eldercare has changed dramatically in just one generation. The days of the non-working housewife as the no cost elder caregiver are almost gone forever. Eldercare is not just affecting women, men are increasingly assuming these responsibilities. It is also more appropriate to say that personal savings isn't for retirement anymore. It's for long term care. Eldercare responsibilities are estimated to cost corporations $34 billion annually in lost productivity. Here's what you need to know for your clients, your business, and you.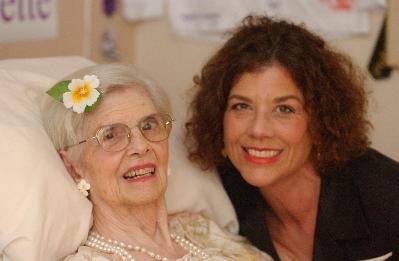 Photo by Ron Lewis
Esther@ENCOREmgmt.com
(707) 937-9025